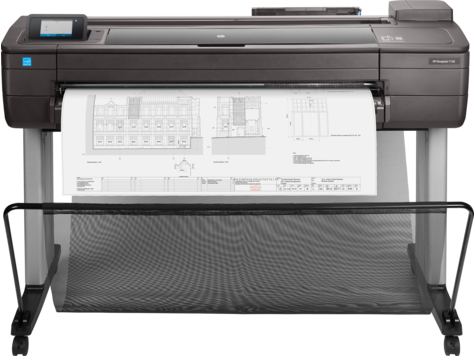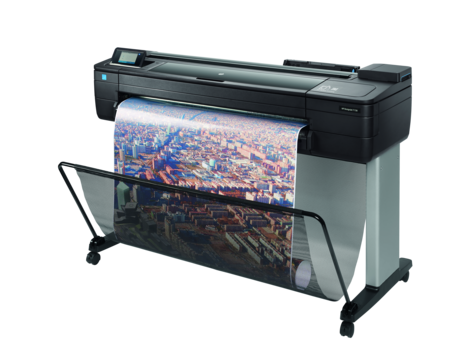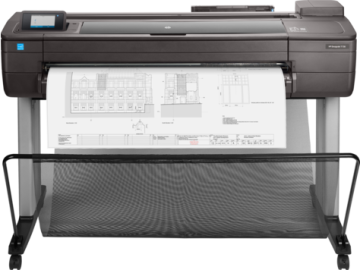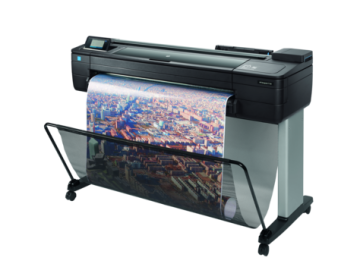 Download Brochures

T730-Brochure.pdf
(657kB)
HP DesignJet T730 36" Printer Including 1 Year Warranty
Printer Output: Colour
Colour: Black
Printer Technology: Inkjet
Brand: HP
Print media: Bond Paper, Paper (plain), Gloss paper (photo), High-resolution paper
Print media sizes: Up-to 36-inch wide paper rolls and paper sheets (available below under supplies)
Applications: Perfect for CAD and general use applications. Great office printer with Wi-Fi for wireless use.
Ideal for use in the studio or at the job site, this robust, compact printer delivers A1/D-size prints in 25 seconds and helps keep you productive with large HP ink cartridges that can reduce interventions.
Robust, compact, and professional—this printer fits your business and gives you space to work.
Produces prints 3 times faster than previous HP models—see A1/D-size prints delivered in 25 seconds.
Choose from 40- to 300-ml HP ink cartridges to fit your print volume, large supplies can reduce interventions.
You can save time, reduce waste. The intuitive front panel touchscreen works like a smartphone. Print at half scale—and cut waste by 50%[2]—with automatic sheet feeder/tray. Easy wireless connectivity[1] means you can place it nearly anywhere.
Cut waste by 50%—print at half scale with automatic sheet feeder/tray; cut extra work, waste of wide rolls.[2]
The front panel works like a smartphone—easily swipe through the intuitive user interface on the touchscreen.
No LAN needed—move this printer any time, any place your Wi-Fi signal can reach with wireless connectivity.[1]
HP Mobile Printing makes it easier than ever to connect to your HP DesignJet printer.[1] Print from your mobile device in just a few simple clicks. And use the HP AiO Printer Remote app to access additional features when printing on-the-go.[3]
Print from mobile devices in a few simple clicks with HP Mobile Printing[1]—quickly work through revisions.
If you're on-the-go, attach your document to an email and send it directly to your printer via ePrint.[1]
Use the HP AiO Printer Remote app[3] to access additional print features when printing from a mobile device.
The printer creates its own Wi-Fi network for easy connectivity with Wi-Fi Direct.
[1] Local printing requires mobile device and printer to be on the same network (usually Wi-Fi access points bridge wireless to wired connections) or have a direct wireless connection. Wireless performance is dependent on physical environment and distance from access point. Wireless operations are compatible with 2.4 GHz operations only. Remote printing requires an Internet connection to an HP web-connected printer. Wireless broadband use requires separately purchased service contract for mobile devices. Check with service provider for coverage and availability in your area. See http://www.hp.com/go/designjetmobility for more details.
[2] Printing on sheets eliminates the extra work and cutting waste of printing on performance equivalent roll-based printers in the market as of September, 2015. For example, printing at half scale (13.5 inches) on a typical (36-inch) roll results in over 50% paper waste and additional labor to cut.
[3] The HP All-in-One Printer Remote mobile app is available for Apple® iPad, iPhone, and iPod Touch running iOS v7.0 or later and for Android™ mobile devices running Android™ v4.4 or later. The HP All-in-One Printer Remote mobile app is available for free from the Apple® App Store for Apple® mobile devices and from the Google Play Store for Android™ mobile devices.
Videos
Supplies