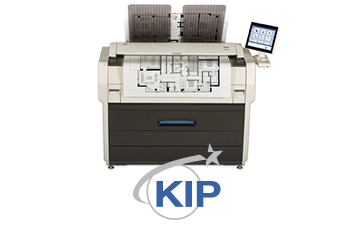 Download Brochures

KIP7170Brochure.pdf
(2MB)

KIP7170K-Specs-Plantation-Paper.pdf
(301kB)
KIP 7170 Multi-Function Printer
KIP 7170 Multi-Function Printer
Ultimate Multi-Touch Performance Printer
The productivity of the KIP 7170 system is designed to satisfy the most demanding needs of decentralised users and may also be expanded as a centralised network printer.
CIS Scanning - with Real-Time Thresholding Technology
Energy Star Qualified - Economical & Ecological
Total Control of the Copy, Print & Scan Process
Workgroup Walk-Up Simplicity
6 x A1 per minute
Smart Multi-Touch Controls
All system functions for the KIP 70 Series are performed through an integrated, 307 mm multi-touch tablet-like colour display to copy, print and scan both colour and B&W documents.
Multi-Function System
Space saving integrated top stacking (standard)
Colour copies & print directly to inkjet
Scan documents into a wide range of B&W and colour files
Print from and scan to cloud storage or integrated USB port
Real-time previews for maximum quality
Production System with Stacking (optional)
Direct prints to stack on top or rear
Create colour copies directly to inkjet printers
Scan to a wide range of file formats
Real-time copy and scan previews
USB printing and scanning support
On-screen copy, print & scan previews
Production System with Folding (optional)
Precision document folding
Operates at full print engine speed
Ultra-quiet operation
Online and offline folding
Fully integrated with KIP software
Compact footprint
Enhanced user experience
KIP System K Software Suite provides an enhanced user experience and exceptional productivity for the seamless control of colour and black & white print demands. Features include:
Touchscreen tablet navigation.
Standardized system icons with tile interface.
Print submission applications with systems management, configuration and systems status.
Software applications feature ribbon command bar with extended choice of functions.
SNMP protocols, cost center control and cloud collaboration.
System K Windows® Driver, WHQL certified, touch PC compliant with simplified / advanced functions
and systems status.
Videos