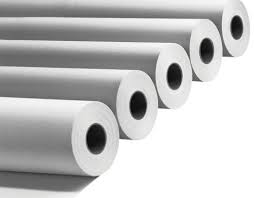 A2 Plotter paper bond roll 420mm
Plotting Paper Bond Rolls A2 Size
A2 Plotter Paper Rolls for wide format printing
CAD Plotting Paper Rolls
Suitable for Inkjet printing
Delivered to your office, company, home, or business
Suitable for HP, Canon, Epson, KIP, Xerox machines and more
Made in Australia
Plantation Paper Bond Rolls are specially formulated to be dimensionally stable and moisture controlled for use in your wide format inkjet printer/copier. They ensure you achieve high quality print results with true colour reproduction.
Each carton of 50 metre rolls contains eight rolls 80 gsm paper which is suitable for most general purpose inkjet printing.
Each roll measures 420mm x 50/100 metres.
They have a 50 mm core to suit your compatible wide format printer or copier.
You Might Also Like
Supplies