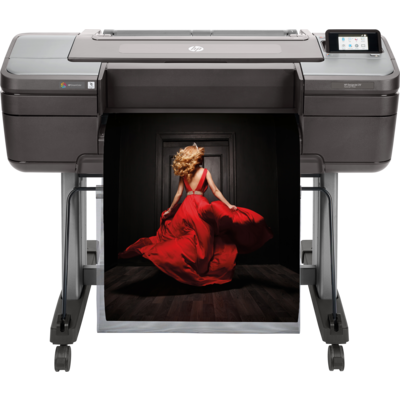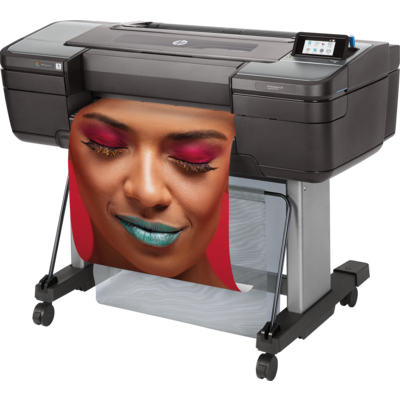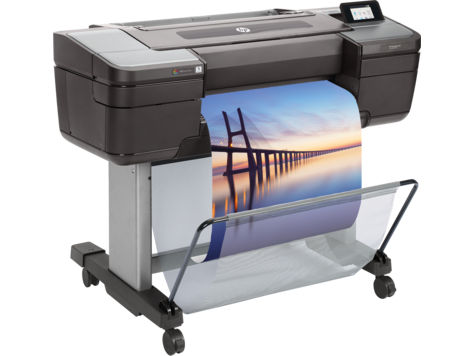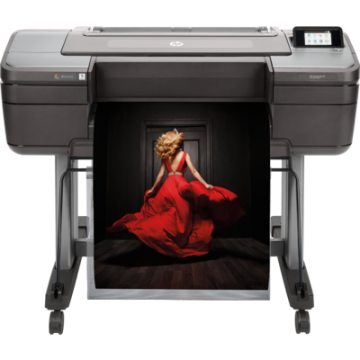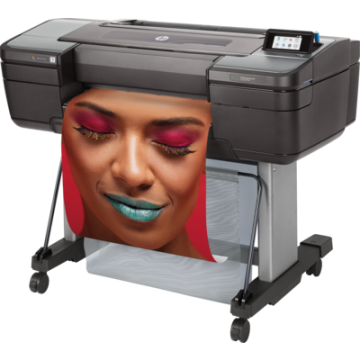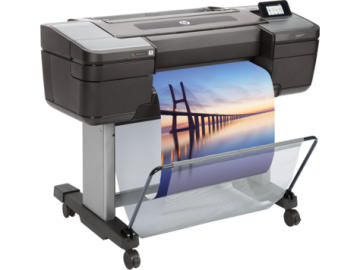 Download Brochures

Z9-Datasheet.pdf
(451kB)
HP DesignJet Z9 24" PostScript® Printer - 3 Year onsite Warranty
HP DesignJet Z9 24-in Wide Format Plotter
Printer Technology: HP Thermal Inkjet
Brand: HP
Package dimensions: (W x D x H) 76.8 x 30.2 x 28.3 in
Package weight: 102 kg
Printer Dimensions: 1293 x 695 x 998 mm
Print Roll sizes: 279 to 610 mm
Print Sheet Size: 210 x 279 to 610 x 1676 mm
Standard Sheets: A4, A3, A2, A1
Grammage: 80 to 500 g/m²
Print Resolution: 2400 x 1200 optimised dpi
Applications: Digital fine art, Exhibition and event graphics, Graphics design, Photos, Point of sale/ display, Posters
Speed:

Plain media: 71.4m²/ hr (769ft² /hr)
Colour images [Normal]: 17.2 m²/hr (185 ft²/hr) on coated media
Colour Images [Best]: 4.5 m²/hr1 (48 ft²/hr) on glossy media

Ink Type: Pigment-based
Printheads: 5 universal printheads
Print Memory: 128 GB (virtual)
Connectivity [Interface]: Ethernet, Fast Ethernet, Gigabit Ethernet, 10/100/1000Base-T Ethernet (802.3, 802.3u, 802.3ab); Hi-Speed USB 2.0 certified interface for direct printing from USB flash drive
Power Consumption: < 100W (printing); < 32W (ready); < 0.3W (< 6.5W with embedded Digital Front End) (sleep); 0.1W (off)
Printer Warranty: 3 Years Limited Warranty
What's in the box:
HP DesignJet Z9 PostScript Printer, printheads, introductory ink cartridges, printer stand and media bin, spindle, quick reference guide, setup poster, power cord
Software included
HP Click
HP Web Jetadmin
HP JetAdvantage Security Manager
HP DesignJet Utility including HP Color Center
HP Partner Link Pay-per-use
HP MPS
PRECISE—Clearly distinguish subtle details
Observe finer details with enhanced clarity and experience vivid, high-contrast colours through the utilisation of advanced high-definition HP printheads.
The HP Designjet Z9 24 incorporates HP's dual drop technology which eliminates the requirement for light inks, simplifying the printing process.
Achieve seamless gradients with the HP Designjet Z9 printer , even when dealing with intricate colour blends, courtesy of HP Pixel Control.
FAST—Work without delays
Effortlessly manage intricate files using robust processing architecture and the Adobe PDF Print Engine, even when dealing with the most intricate designs.
Achieve up to 20% faster printing speed through the high-definition HP printheads with 2400 nozzles per inch, ensuring rapid and efficient print output.
SECURE—Protect your work and your information
Protect printers and data against unauthorised access with security measures such as HP Secure Boot, whitelisting, and encryption for the hard disk.
Improve document protection and maintain confidentiality through authentication solutions like PIN printing and card readers.

Secure printers by implementing HP JetAdvantage Security Manager and conveniently manage your printer fleet remotely using HP Web Jetadmin.
This versatile printer appeals to professionals who require high-quality, large-format prints for various purposes:
Graphic Designers: It allows them to bring their creative visions to life with vibrant and detailed prints.
Photographers: Photographers often require large prints to showcase their work, and this printer is an ideal choice for producing gallery-worthy images.
Marketers: You may find this printer valuable for creating marketing collateral such as posters, banners, and promotional materials.
Architects and Engineers: The HP Designjet Z9's precision and line accuracy can help print detailed plans and blueprints with exceptional clarity.
Reach out to us today on any queries related to the HP Designjet Z9 24 in Postscript Printer price and specs. We'll help you buy the right printer plotter for your professional office needs!
Videos
Supplies
You Might Also Like