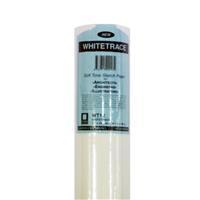 Whitetrace Paper Rolls
Whitetrace Paper
Material: Paper
Paper Type: Transparent
Product Type: Sketch Paper Roll
Use With: Pencils, Pens, Ink, Chalk, Charcoal
Color: White
Length: 46m (50yd)
Use Case: Architecture, Engineering, Designing, Sketching, Education
Whitetrace ® 27gsm Soft Tone Sketch Paper is a light weight, transparent white tracing paper.
This roll of tracing paper allows visibility with up to 4 sheets piled over the original drawing. Perfect for drawing and sketch work when designing & drafting plans or working on existing layouts, this can be ideal for architects and designers, students and engineers.
We offer 7 different sketch paper roll widths:
12" (30 cm)
14" (36 cm)
18" (46 cm)
24" (61 cm)
30" (76 cm)
36" (91 cm)
48" (122 cm)
Our white tracing paper rolls are sold in 46m (50yd) lengths.
You Might Also Like