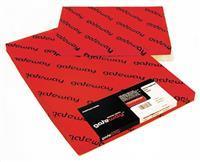 Detail Paper
Detail Paper
Material: Paper
Paper Type: Lightweight & Translucent [Semi-Transparent]
Product Type: Sheets of Paper
Brand: Gateway
Use With: Ink, Pen and Pencil
Colour: White
Length: 84 x 2500 cm
Thickness: 53gsm
Sizes: A1, A2, A3 & A4.
No. of Sheets: 200 Sheets Pack
Uses: ideal for preliminary drawings, technical renderings, sketching, planning
Detail papers are thin, semitranslucent sketching papers that can be used for various specialized drawing requirements.
They are mainly used for preliminary drawings in architecture, drawing, and planning. Detail paper and other similar options are ideal for technical drawing, sketching, development drawings, and detailed preliminary renderings.
We provide Detail Paper from the brand Gateway. It is a 53gsm smooth and lightweight paper which is softer than tracing paper, and suitable for use with pencils, pens and ink. Our Gateway Detail paper is available various sizes, including A1, A2, A3, and A4, with A2 detail paper being our high-selling product variation.
Place your order for detail papers before stock runs out.
You Might Also Like