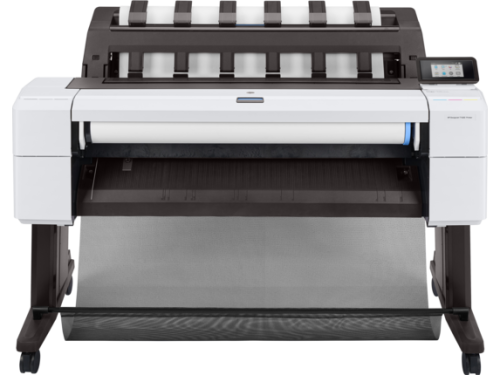 Download Brochures

T1600.pdf
(1MB)
HP T1600 Plotter Printer 36-in - 3 Year onsite Warranty
HP Designjet T1600 36-in Printer
Printer Output: Colour
Printer Technology: Inkjet
Brand: HP
Print media: Paper (plain), Gloss paper (photo)
Print media sizes: Up-to 36-inch wide paper rolls & paper sheets (available below under supplies)
Applications: Perfect for CAD and GIS applications including line drawings, map printing, posters, presentations and renderings with accurate line quality and crisp text.
Maximize workgroup productivity and enterprise security with this Dual-roll 36-inch, 6-ink printer for professional-quality CAD and GIS applications
HP Plotter T1600 Overview
Choose between 5 ml or 3 ml margins, tailoring your print settings to suit your specific preferences.
Enjoy clutter-free, organised prints with the integrated output stacking tray, ensuring your documents remain flat and collated.
The HP Designjet T1600 36 inch printer supports a media size of 36 inches (914mm), accommodating various large format printing needs.
Take full control of your printing tasks with the convenience of monitoring media rolls, checking printer status on the touchscreen, and tracking jobs during the printing process.
Effortlessly load two paper rolls, even while seated, using the front-loading and automatic paper-roll alignment feature.
Optimise space with the compact design of this 914mm (36 inches) printer, featuring a flat surface for easy inspection of your printouts.
Enjoy the benefits of PostScript availability with the HP Designjet T1600 36-in Postscript Printer, enhancing printing versatility.
QUALITY: Your projects, presented at their best
Experience the brilliance of a wide colour gamut, perfect for colour graphics, with the use of six Original HP inks.
Achieve exceptional line accuracy, deep blacks, and authentic neutral greys with Original HP grey and photo black inks.
Elevate the quality of your architectural prints with professional, high-resolution graphics by choosing Adobe PostScript®.
Ensure precise communication with plans, drawings, and maps boasting fine line quality and impressive 2400 dpi resolution.
PRODUCTIVITY: Ease, efficiency empower workgroups
Stay organised and on track with the integrated 50-page output stacking tray, ensuring flat and collated prints for easy handling.
Save valuable time with the convenience of two rolls, featuring easy front loading and automatic alignment. The printer supports two media types/sizes, offering smart switching capabilities.
Speed up your printing process with the ability to print complex files rapidly with this T1600 plotter. Enjoy one A1/D print in just 21 seconds (120 A1/D per hour) with the assistance of 96 GB virtual memory (based on 1.5 GB RAM).
Enhance workgroup efficiency by utilising the job centre, allowing you to manage job queues and job storage efficiently. Additionally, track print costs to optimise your printing operations.
SECURITY: Enterprise compatible, IT manageable
Achieve remarkably unattended printing with the capacity to use two 100-metre rolls and Original HP ink cartridges up to 300 ml.
Ensure the security of your information with robust protocols such as IPSec, 802.1x, SNMPv3, PIN printing, and various other options(1).
Seamlessly configure and manage your printer using the HP Embedded Web Server or integrate it with your entire HP printer fleet through HP Web Jetadmin.
Enjoy easy integration with your other office devices, with compatibility for both iOS and Android(2) via HP Mobile Printing(3).
Reach out to us for your business printing needs and get an HP T1600 Printer today!
1. Optional security solutions include Secure Disk Erase (available for all models) and Encrypted HD (available only in specific models).
2. The HP Print Service Plugin app is available for Android mobile devices running Android v.4.4 or later. The app is free from Google Play.
3. Local printing requires mobile device and printer to be on the same network (usually WIFI access points bridge wireless to wired connections) or have a direct wireless connection. Wireless performance is dependent on the physical environment and distance from the access point. Wireless operations are compatible with 2.4 GHz operations only. Remote printing requires an Internet connection to an HP web-connected printer. Wireless broadband use requires separately purchased service contract for mobile devices. Check with the service provider for coverage and availability in your area. See hp.com/go/designjetmobility for more details.
Videos
Supplies
You Might Also Like