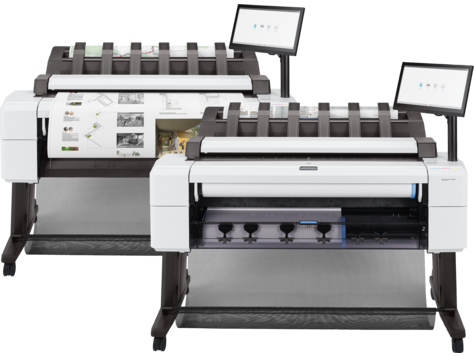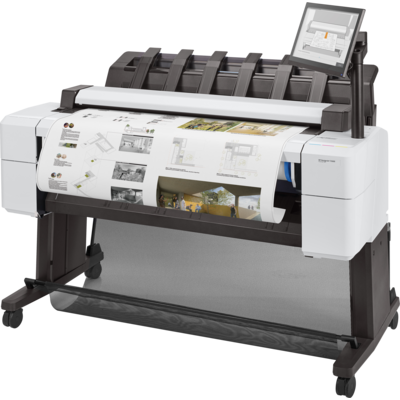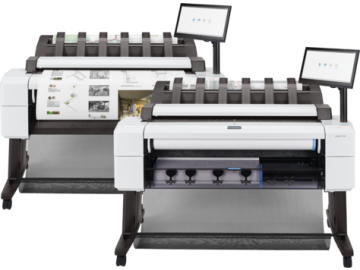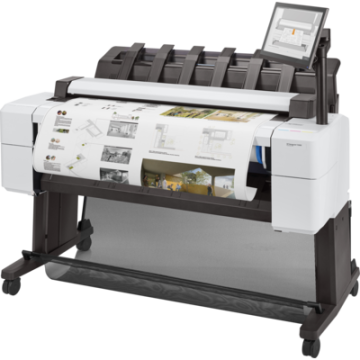 Download Brochures

T2600-Datasheet.pdf
(2MB)
HP T2600 Printer Series including 3 Year onsite Warranty
HP DesignJet T2600 Multifunction Printer series
Printer Output: Colour
Printer Technology: Inkjet
Brand: HP
Print media: Paper (plain), Gloss paper (photo)
Print media sizes: Up-to 36-inch wide paper rolls & paper sheets (available below under supplies)
Applications: Perfect for collaborative teams working together on projects. Print precise line drawings, coloured 3D renders, Maps, Presentations and high-quality images.
The MFP T2600 makes it easy to print/scan/copy and share to maximise workgroup productivity, enterprise security Dual-roll 36-inch, 6-ink integrated MFP for professional-quality CAD and GIS applications HP Designjet T2600 Overview
Option of 5ml or 3ml margins
Print Width: 914mm/36in print width
Super Fast printing: 21 seconds per A1 Printed Page
High Resolution: Up To 2400 x 2100 DPI resolution
Integrated Scanner: Up To 600 DPI resolution
Built-in Media stacker for neatly stacked prints
Effortless roll loading even from a seated position
Instantly share and manage content with scan to my network places, FTP address, USB Drive and even the cloud
HP ePrint and Share as standard, allowing you to print from anywhere including scanning and receiving documents.
Models : eMultifunction Printer & PostScript eMultifunction Printer
PROFESSIONAL: Your work in high quality, quickly
Improve workflow - switch between two rolls with this front-loading, multifunction ePrinter with A0 capabilities, that uses an output stacking tray to organise and protect your drawings. Easily scan, copy, and print reliably from mobile devices.
Six Original HP inks produce a wide colour gamut ideal for colour graphics
Original HP grey and photo black inks achieve precise line accuracy, dark blacks, and true neutral greys
Make your architectural prints shine with professional, high-resolution graphics - opt for Adobe PostScript
Communicate with precision - produce plans, drawings, and maps with fine line quality, and up to 2400 dpi
PRODUCTIVE: Efficiencies help workgroups save time
Convenient access to a single control panel for print/scan/copy enables easy, do-it yourself operation
Keep workgroups on task integrated 50-page output stacking tray conveniently delivers flat, collated prints
Two rolls provide flexibility easy front loading, automatic alignment; two media types/sizes, smart switching
Print straight from your Apple or AndroidTM(1) smartphone/tablet wherever you are with HP Mobile Printing(2)
MANAGEABLE Secure and easy to manage for IT
From upgrades to network integration, this single, integrated device requires less effort to manage(3)
Gain control initiate front panel access rules, monitor media rolls and printer status, track print jobs
Protect your data with IPSec, NTLMv2, SNMPv3, 802.1X, PIN printing, and more security options(4)
Enable unattended printing with two 100 metre bond rolls compatible with the way you work
Size and Style The HP Designjet T2600 takes on a whole new look and feel. It has a 30 percent smaller footprint than its predecessor featuring a compact, ergonomic design that helps save space and allows the user to place the machine close to the wall.
Two Roll, Front Loading It features two-roll front media loading with smart switching and automatic paper-roll alignment. With two-roll, front media loading, customers can print projects that require different rolls of media types and sizes without having to change the roll.
Screen An intuitive full-colour touch screen allows monitoring media rolls, provides added control with the ability to manage job queues, track print costs, print borderless images and view true print previews Stacker It's inbuilt media stacker delivers flat, collated prints, keeping them neat and tidy, reducing media wastage and helping teams stay organized between multiple projects.
Scanner The T2600 features an integrated scanner. Scan, incorporate hand-annotated changes and send sketches to team members. The integrated output stacking tray delivers flat, collated prints, helping teams stay organized between multiple projects. The printer also offers a wider variety of media options with the ability to print up to AO/E print sizes.
Print & Share The HP Designjet T2600 comes with HP ePrint and Share; a free web service that makes it easy to access, view and print large-format documents using an Android or Apple tablet, a smartphone, a notebook or an ePrinter touch screen. Scan to/ Print from USB, email and network folders. Instantly share your revisions and changes by simply scanning your documents to the cloud, USB, Email, FTP site or through HP ePrint and Share. Printing can also be achieved using the same methods. Users also can email projects to print by attaching a PDF or other print-ready file to an email, and sending it directly to the ePrinter's dedicated email address. 1 The HP Print Service Plugin app is available for AndroidTM mobile devices running Android v.4.4 or later. The app is free from Google Play. 2 Local printing requires mobile device and printer to be on the same network (usually WIFI access points bridge wireless to wired connections) or have a direct wireless connection. Wireless performance is dependent on the physical environment and distance from the access point. Wireless operations are compatible with 2.4 GHz operations only. Remote printing requires an Internet connection to an HP web-connected printer. Wireless broadband use requires separately purchased service contract for mobile devices. Check with the service provider for coverage and availability in your area. See hp.com/go/designjetmobility for more details. 3 One integrated print/scan/copy multifunction device compared to separate print, scan, copy devices. 4 Optional security solutions include Secure Disk Erase (available for all models) and Encrypted HD (available only in specific models).
Videos
Supplies